Week of June 17, 2001
Limey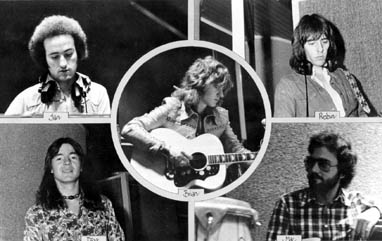 Personnel:
Dave Bowker - bass
BJ Cole - steel guitar
Stephanie de Sykes - vocals
Brian Engel - guitar, vocals
Ian Kewley - keyboards
Robin Le Mesurier - guitar
Mac McInerney - drums, percussion
Claire Torry - vocals
Sue Vanner - vocals
Tommy Eyre - flute, keyboards
Robert Henrit - drums
Paul Keogh - guitar
John Knightsbridge - guitar
Jim Rodford - bass
Alan Spenner - bass
Garth Watt-Roy - guitar
Tommy Willis - guitar
Albums:
Limey (1975) RCA SF8463
Silver Eagle (1977) RCA PL 25032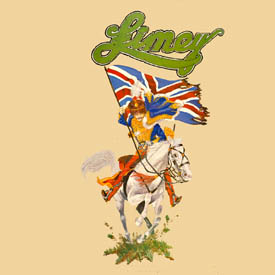 This mellow country-rock band from Britain only ever released two albums, both in the mid-70s and most likely amidst the punk melee going on there at the time, and attracted my attention primarily due to the involvement of steel guitarist BJ Cole (Joan Armatrading, Kevin Ayers, Mike Batt, T.Rex, Gary Brooker, Michael Chapman, City Boy, Cochise, Roger Daltrey, Chris De Burgh, Kiki Dee, Andy Fairweather-Low, Family Dogg, Fox, Free, Roy Harper, Sensational Alex Harvey Band, Humble Pie, Elton John, Ian Matthews Southern Comfort, Nazareth, Alan Parsons Project, Procol Harum, Gerry Rafferty, Tim Rose, Showaddywaddy, Al Stewart, Trapeze, Uriah Heep, Walker Brothers, Paul Young and many others!!!), who I've long been a great fan of, on the debut LP, as well as the recently demised keyboardist Tommy Eyre (Joe Cocker & Grease Band, Riff Raff, Zzebra, Ian Gillan, Alex Harvey, Gerry Rafferty, Greg Lake, Mark-Almond, Strawbs, etc.) who's already sorely missed now - on the band's final album, 1977's "Silver Eagle".

Warning: the debut LP is a sleeper, the first side of the album might actually discourage some progressive and hard rock aficionados from exploring any further as it is indeed (in my own personal opinion) rather dull. Side two is much more lively and varied, with BJ Cole's steel guitar definitely livening up the proceedings and making all the difference. The tunes also seem more diverse on side B, although the general direction of the band remains intact: mellow, folkish country-rock which conjures up memories of Help Yourself and Cochise. Brian Engel's vocals are strikingly similar to those of the Strawbs' David Cousins.

On the second album, guests of honour include Garth Watt-Roy (Greatest Show On Earth, Fuzzy Duck, Steamhammer), Robin Le Mesurier (Rod Stewart band), John Knightsbridge (Illusion, Third World War), Jim Rodford and Robert Henrit (both were members of Argent) and Alan Spenner (Joe Cocker & Grease Band, David Coverdale, Bryan Ferry, Roxy Music, Kokomo, Alexis Korner, Paul Kossoff, Alvin Lee, Ted Nugent, Leon Russell, Spooky Tooth, Mick Taylor, Steve Winwood, Whitesnake, etc.), and it is an even more lively and interesting affair, with songs now ranging from country-rockers to quiet ballads to whimsical acoustic guitar-dominated near-prog pieces along the lines of that period's Wishbone Ash (e.g. "New England" album) and bands like Home. All very enjoyable stuff but grows on you even more if you allow for repeat listening.

With ditties about cowboys and cowboy life and deliberately American-sounding steel guitar "country" bits, perhaps it wasn't the wisest idea to put a caricature of a British warrior atop a white horse (a-la Don Quixote), toting a large Union Jack - maybe this explains why the band fell through the cracks at the time, despite some "heavy" guests involved.
Alex Gitlin
June 2001
---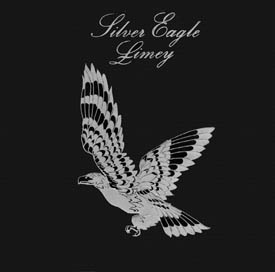 Meanwhile, The Tapestry of Delights - The Comprehensive Guide to British Music of the Beat, R&B, Psychedelic and Progressive Eras 1963-1976, Vernon Joynson ISBN 1 899855 04 1, suggests:
"Their debut was an album of mainly soft melodic rock with the occasional country edge (BJ Cole's steel guitar is evidenced on a couple of tracks). Pleasant but not strong enough to be recommended. All the tracks are written by Brian Engel. A further album was issued in 1976 on RCA which featured Garth Watt-Roy and members of Argent entitled "Silver Eagle".

Engel was previously in Mandrake Paddle Steamer."
---