Week of October 4, 1998
Family Dogg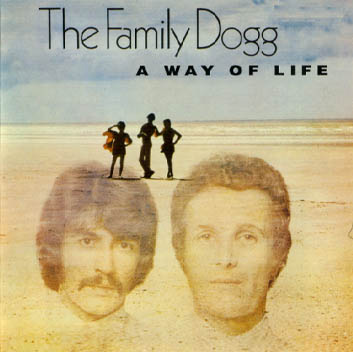 Personnel:
Albert Hammond Guitar, Vocals
Christine Holmes Vocals
Steve Rowland Vocals
Albums:
A Way Of Life				(Bell SBLL 122)		1969
View From Rowland's Head		(Polydor 2318 061) 	1972


45s:
Family Dogg/Storm 			(MGM 1360)		1967
I Wear A Silly Grin/Couldn't Help It	(Fontana TF 921)	1968
Brown-Eyed Girl/Let It Rain		(Fontana TF 968)	1968
A Way Of Life/Throw It Away		(Bell BLL 1055)		1969
Arizona/House In The Heather		(Bell BLL 1077)		1969
When Tomorrow Comes Today/
This Unhappy Heart Of Mine		(Bell BLL 1100)		1970
Coat Of Many Colours/
Jesus Loves You				(Bell BLL 1139)		1971
Sweet America/Rikers Island		(Buddah 2011143)	1972

---
This five-piece was put together by Steve Rowland and aside from himself, consisted of two guys and two girls. They are best remembered for the well-crafted pop song, "Way Of Life", which was a Top Ten hit in 1969. They were unable to attain such dizzy heights in the future and, despite the fact that Steve Rowland tried different line-ups under the same name in 1970 and 1976, they are remembered as 'one hit wonders'.
Christine Holmes went on to host 'Crackerjack' briefly, recorded a few singles under the name Kristine Sparkle and did impersonations for the TV series 'Who Do You Do' under the name Kristine. Several people passed through the band over the years.
Source: The Tapestry of Delights - The Comprehensive Guide to British Music of the Beat, R&B, Psychedelic and Progressive Eras 1963-1976, Vernon Joynson ISBN 1 899855 04 1
---
The Family Dogg actually started, in concept, in Madrid, Spain in 1965 when Steve Rowland and Albert Hammond met. Both of these young dudes were lead singers in separate pop bands, whose members were all native Spanish. Steve was the lead singer with the comically called group, Los Flaps and Albert, being Gibraltar-born, was the main ingredient in the group, Los Diamond Boys. There was a big concert given at Cerco Price, a large concert hall in downtown Madrid in the Summer of 1965.
These were 12 groups present at this event, playing all day long, including Los Flaps and Los Diamond Boys. It was here, behind barrocaded dressing room doors, that Steve and Albert met. And it was then that the first spark of what was to ignite into The Family Dogg was born. A musical friendship had begun…
One year later, in London, England, Steve and Albert met up again. Good times in Spain were recalled and it was decided between the two that this relationship should continue in England. The result of this decision was birth of The Family Dogg.
Taken from the CD compilation, "A Way Of Life", 1995, BR Music, BX 453-2
---