Week of May 23, 1999
Steamhammer
DISCOGRAPHY
SINGLES
UK-CBS 4141/1969 Junior's Wailing (Single Version)/Windmill
UK-CBS 4496/1969 Autumn Song/Blues For Passing People
LPs
D-CBS 63611/1969 Reflection (feat. Junior's Wailing)
D-CBS 63694/1969 MK II
D-Metronome 15376/1970 Mountains
D-Brain 1009/1971 Speech
D-Bellaphon BLPS 19030/1970 Same (aka Reflection)
D-Bellaphon BLPS 19049/1970 MK II
D-Bellaphon BPU 14012/1970 Same (MK 11)
D-2001 Brain 201042/1972 This Is Steamhammer (aka Speech)
D-Brain 2/1043/1974 This Is Steamhammer, 2-LP (aka Speech & Mountains)
D-Bellaphon 14012 Pickup (aka MK II)
D-Metronome 0040.054/1978 Speech
Discography by Wilfried Zinzow
---
The extraordinary blues-rock band Steamhammer was formed at the end of 1968 in Worthing. Martin Quittenton (g) and Kieran White (voc., g, harm.) came out of the British folk circuit. Quittenton had worked together with the Liverpool Scene and, like the other members Martin Pugh (g), Steve Davy (b) and Michael Rushton (dr), had played with numerous R&B groups.
Blues hero Freddie King ordered Steamhammer as his backing band on tour through Great Britain. Come Spring time, 1969, they signed a record contract with CBS. The first album, "Steamhammer", was a mixture of classic blues by B.B.King and Eddie Boyd and modern blues written by White and Quittenton with the help of Pugh. At the end of the British blues boom, only a few hardcore fans took interest on the finest lyrical blues-rock statement of the century.
Not selling as many records as they'd hoped to, Steamhammer nevertheless became a top European open-air attraction, mainly due to their brilliant live performance. For over two hours each night they would indulge in wide excursions in instrumental improvisations, embodied by the impressive guitar riffage of Martin Pugh and the sensitive harmonica of Kieran White. In the Summer of 1969, Quittenton left the band, followed by drummer Michael Rushton. They were replaced by Steve Jollife (sax, fl.) and Mick Bradley.
Jollife's feel for precise arrangements and jazz influences especially inspired the recording of Steamhammer's second, "Mk II", album. Overstepping the boundaries of traditional blues forms, they unleashed their own musical creativity and imagination without resorting to any technical trickery. These highly professional and creative musicians performed many live shows at various festivals in Scandinavia, West Germany and the Netherlands. On the continent, it turned out, they had become more popular than in England.
In the Summer of 1970, Steamhammer recorded their "definitive album" (rock session), called "Mountains", as a quartet. White, Pugh, Davy and Bradley were really working as a team and offering electrified white urban blues of highest quality. The live cut, "Riding On The L&N", is one of the highlights of the "Mountains" album, which contains straight-ahead blues numbers with a healthy dose of rock'n'roll. It was only with the release of this album that Steamhammer began to be noticed by the rock world. After the Altamont and Fehmarn fiascos, the era of open-air events of such calibre was ended at least for quite a while.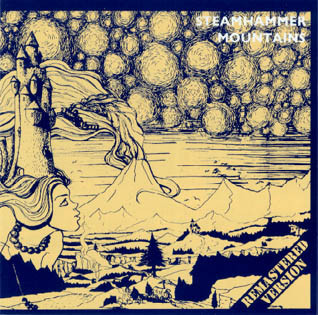 In the late Summer of that same year, Steamhammer toured for the last time in Germany and the Benelux. The following Autumn, the line-up changed again. Only Pugh and Bradley stayed together and engaged ex-

Renaissance member Louis Cennamo (b) for the recording of one more album. "Speech" was recorded in the Winter of 1971 and released in the beginning of 1972. By that time, Steamhammer had ceased to exsist. "Speech" was a disappointing, partly chaotic album, and the negative reception of the record led to the end of the group's popularity. Mick Bradley died in February 1972 of leukemia. Kieran White released a solo LP, "Open Door", in 1975 and Martin Pugh and Louis Cennamo put together a cult band Armageddon (with Keith Relf on vocals), which released only one album.

Courtesy of "Christian Graf - Rock Music Lexikon", Verlag Taurus Press, Hamburg. Edited by Alex Gitlin.

Taken from the CD reissue of "Mk II", Repertoire, REP 4236-WY
---