Week of March 12, 2000
Snafu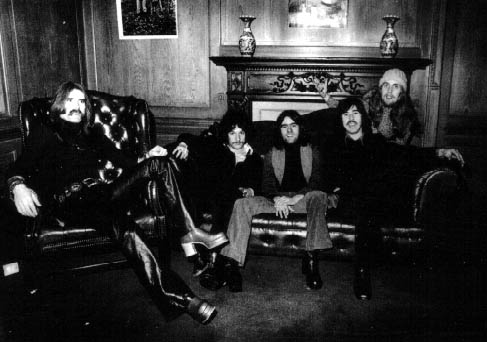 In 1972, vocalist/drummer Bobby Harrison had just left blues-rock outfit Freedom and started to record his first solo LP, 'Funkist'. Among the many first-class musicians featured on this album was Micky Moody, then lead guitarist with Juicy Lucy. The collaboration between the two was so successful that they decided to form a completely new group and play American-inspired funk and R&B-flavoured rock.
This was the birth of Snafu, one of the finest and most soulful British acts of the mid-seventies. Bobby Harrison had a background of playing with Procol Harum, which he had joined as the last moment in the Spring of 1967, just before entering the studio to participate in the recording of their all-time classic, "A Whiter Shade Of Pale". The single, of course, became an overnight success, but soon after Harrison, along with the group's guitarist, was told to leave the band due to 'internal differences'.

It was a great shame that this unfortunate episode should become Bobby Harrison's biggest 'claim to fame', as he is certainly a most capable singer/songwriter/musician with an intriguing pedigree. Already a seasoned musician long before joining Procol Harum, he had been with legendary Southend group The Rockefellas since the late fifties, following which he became a member of several other outfits including Golden Apples Of The Sun (who released a single, 'Monkey Time ', for the Immediate label in 1965) and Powerpack (who did two singles for CBS in 1966 and 1967). He even sat in with the pre-Procol band, the Paramounts, on a few occasions and there are also rumours of a solo single, "Sunny", recorded for CBS in 1965 or 1966.

After Procol Harum, Bobby Harrison formed Freedom, whose first line-up recorded a couple of singles and a soundtrack for an Italian film. However, as musical fashions started to change from psychedelia to heavy blues-rock, Bobby sacked the other group members and instead hired guitarist Roger Saunders and bass player Walter Monagham. This line-up recorded several albums as they soldiered on into the early seventies. Their newly found style, which they mastered to a tee, naturally won them a faithful live following, as did their impressive three-part harmony vocal work. However, commercial success on a larger scale sadly eluded them, and, disillusioned and disappointed, Freedom finally threw in the towel in 1972.
For a while Bobby's career seemed to go in the solo direction. In the meantime, he would occasionally gig with the aforementioned Juicy Lucy, after their original lead singer Paul Williams had left the group. In fact, this was where Bobby first became friends with guitarist Micky Moody.

Born in 1950 into a Northern working-class family, Micky Moody from an early age became infatuated with the sound of the electric guitar. His family had no particular musical background, but spotting his son's interests, Micky's father bought him a cheap guitar and provided him with tuition. Later - when Micky had formed his first band at school - his father even managed to get him his first gigs at the local Working Men's club. This band, incidentally, was called The Roadrunners and featured on bass and vocals one of Micky's classmates from school, a certain Paul Rodgers who would later become the lead singer of the much-acclaimed Free.

As the band started to get good - as one can easily imagine they would - they decided to go down to London and try their luck. Paul Rodgers wanted to concentrate more on his singing, so another bass player from the Middlesbrough area was drafted, Bruce Thomas (later of Quiver and Elvis Costello's Attractions). The year was 1967, the 'Summer of Love', and the group appropriately changed their name to The Wildflowers.

"We only did one recording," Micky Moody remembers. "We put four of our own songs down on a 1/4-inch reel-to-reel. The guy who recorded it for us was Paul Kossoff, who of course later became the lead guitarist in Free. I dug out the tape some time ago to give it a listen, but unfortunately it had completely disintegrated."

After starving in London for three months, The Wildflowers decided to call it a day. The group disbanded, and Micky went back to Middlesbrough to study classical guitar. Fortunately, he soon joined a local band called Tramline, who released two albums on Island Records. Then he once again decided to try his luck in London, this time as a member of The Mike Cotton Sound. The group backed singers such as Lucas, Gene Pitney, and Zoot Money. In July 1970, Moody was invited to join Juicy Lucy, with whom he stayed for three albums until Snafu was formed in October/November 1972.

When Freedom split, Bobby Harrison had decided to give up playing drums and instead put all his creative energy into being a lead singer, songwriter and frontman. He and Micky Moody started writing together and auditioning new band members. They found former Tramline drummer Terry Popple (later previously with Van Morrison), bass player Colin Gibson (a former member of Ginger Baker's Airforce) and keyboard wizard/fiddle player Pete Solley (ex-Paladin, later in Whitesnake). Gibson suggested the name Snafu, a term he lifted from a Captain Beefheart LP. In fact, it is an unofficial military abbreviation for the ironic phrase, 'Situation Normal All Fucked Up'. The line-up proved to be a minor musical miracle and was from the beginning destined to become a musician's and a critic's band. The musical influences were mainly American and came from bands like The Allman Brothers and in particular Little Feat, whom Bobby Harrison still describes as "one of my all-time favourite bands'. However, it would be a big mistake to write off the group as just carbon-copiers of early seventies US rock. Perhaps that was what they set out to be, but as it is often the case, something very special happened when this bunch of Englishmen mixed their own musical genes with influences from the other side of the Atlantic.

It's a story as old as The Beatles and The Rolling Stones, this strange bastard mixture, like a musical fish burger, which has managed to conquer the world over the last thirty-five years and change not only the face of popular music but also the lives of most people in the entire Western hemisphere. By the early 1970's, however, British rock seemed to have forgotten the recipe except for a few enthusiasts on the underground scene. These were the 'Bewilderment Years' dominated by overblown symphonic rock, pubescent glam rock, and weedy middle-aged popsters whose wildest escapades amounted to tying yellow ribbons around oak trees as old as themselves.

There were exceptions. Some small-time entrepreneur by the name of Richard Branson had built a studio called The Manor and started recording a long composition by an unknown guitarist, Mike Oldfield. Apparently, Branson was also impressed with the efforts of Snafu, who arrived at The Manor to record their first LP. In fact, Mike Oldfield was working on 'Tubular Bells' while Snafu were there (Pete Solley actually played briefly on the recording).
From the band's first, eponymously titled, LP, the Moody/Harrison composition, 'Long Gone', was released as a single. Both the album and the 7' single received good reviews but were less successful commercially. It didn't seem to bother Micky much: "I was very much against being commercial in any way at the time," he recalls. "I was happy with Snafu being a bit of an underground act with a cult following." Harrison, however, had ambitions on a different level. Perhaps his past as a member of Procol Harum made him more eager to reach for the sky. "I really wanted us to sell a lot of records," he states. "I wanted us to have that big hit single. It never happened, and to me that was one of the main reasons why the band had to throw in the towel at the end."

However, at the time when 'Snafu' was released, everything looked rosy. The group started out on a tour to promote the album. They toured Europe with The Doobie Brothers, and the U.S. with The Eagles.

On the second LP, "Situation Normal", Pete Solley had taken over much of the control of the band. There is a strong country-rock influence on this album, which makes you either hate or love it. Personally, I can't get enough of it and Pete's keyboard/fiddle playing on the LP is equally wonderful. At the same time, Micky Moody was exploring music by the likes of Ry Cooder and getting more and more into playing slide guitar. Harrison's vocal work is sublime and the rhythm section is both tight and soulful. This is an album that should have made most fellow British rock acts at the time blush with embarrassment. Surprisingly, it was not as well reviewed as its predecessor and, in retrospect, it is easy to see that Snafu had already embarked on a steady downhill journey.

"Once again we toured America to promote," Micky recalls. "But they had put us on as a support act for Emerson Lake & Palmer, which was a total mistake. We had a completely different audience to them." The band also toured Europe with War and did a lot of TV and radio appearances.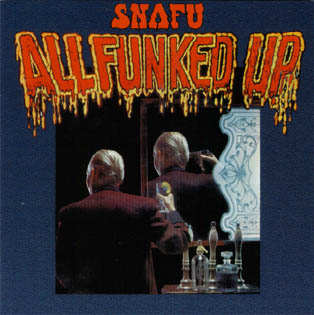 Snafu's third LP, "All Funked up", has long been seen as their 'great lost album'. Highly elusive in its original vinyl format, it is now presented by Angel Air for the first time on compact disc. By the time the group came around to recording the LP, Pete Solley had left to join Procol Harum. He was replaced first by Brian Chatton (previously with John Miles) and later by Tim Hinkley, who was a much-used session player at the time. They both play an the album, which again was recorded at The Manor.

Shortly after, the general feeling of disillusionment and loss of direction which dominated the established British rock scene in the mid-seventies finally caught up with Snafu as well. During a tour of Germany, Moody was invited to join David Coverdale. He accepted. Moody played guitar on Coverdale's two solo LPs and then took part in the formation of Whitesnake. Playing on all of Whitesnake's records throughout the late seventies and early eighties, he also wrote or co-wrote hits such as "Slow An' Easy" and "Fool For Your Lovin'". He furthermore played on Graham Bonnet's hit, "Night Games".

Moody's immense talent and versatility also made him a much-in-demand session player around this time. The post-Whitesnake eighties turned out to be his least favourite time musically, but he is currently active again, touring and recording with The Snakes, featuring fellow Whitesnake guitarist Bernie Marsden (with whom he also tours and records occasionally as The Moody-Marsden Band).

Bobby tried to keep Snafu together for a while with Clem Clempson (Colosseum, Humble Pie, Champion) on guitar, but it didn't work. "I then started hanging out with people like Reg Isadore, the drummer who had been with Robin Trower and Joe Jammer. We had a band together and lived in Chicago for a couple of years. Unfortunately, our manager died and the whole thing just ended in disaster. But then I met this Icelandic girl whom I made pregnant, moved to Reykjavik with her and began a whole new chapter of my life."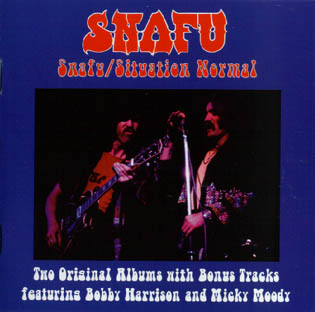 Here he teamed up with local supergroup Mezzoforte with whom he recorded the wonderful "Solid Silver" album in 1987, a strong collection of R&B classics displaying his immense abilities as a singer. Today, Bobby Harrison finds himself back in Southend again. "At the end, I discovered I had this yearning for my roots, and I'd done everything I could do in Iceland anyway. So I'm involving myself with a number of different projects here at the moment. I'm preparing for a new album, writing with Gus Isadore, and playing in a duo with a young guitarist from around these parts, Andy Rowlons. I tried to reform Snafu with a group of local musicians but found it was impossible, at least for me. The original band was a unique combination, which can never be recreated.

Luckily, it seems as if we haven't heard the last from Bobby Harrison.

Claes Johansen
(Taken from the CD reissue of "All Funked Up", Angel Air, SJPCD032, January 2000)
---