Week of July 23, 2006
Thrice Mice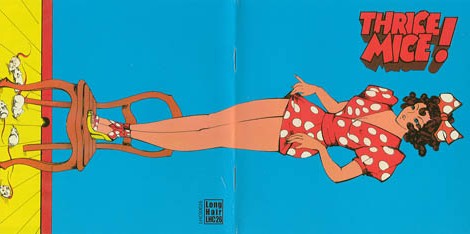 Personnel:
Wolfgang Buhre - Sax
Werner Von Gosen - Guitar
Wolfram Minnemann - Keyboards
Karl-Heinz Blumenberg - Vocals
Rainer Von Gosen - Bass
Arno Bredehoft - Drums

Album:
Same (Phillips 6305) 1971

A sextet from Hamburg, playing the patented, distinctive German type of progressive jazz-rock typified by underground legends like Xhol and Out Of Focus (their 2nd & 3rd albums). The leading soloist in Thrice Mice was Wolfgang Buhre. Vocalist Karl-Heinz Blumenberg had little to do most of the time. Their album was recorded in November - December 1970 in Hamburg and released on Phillips in 1971. Buhre often tried to copy the wah-wah sax style of Ian Underwood of Mothers Of Invention, this was most apparent on the opening track, "Jo Joe". On "Vivaldi" the three soloists were playing duets, taking turns two at a time! Minnemann's organ sound was high, thin and cranky in the late sixties sort of way. The distinctive German underground sound, rooted in jazz, marked the track "Torekov". After a couple of years, the group resurfaced as Altona and made two further albums for RCA in 1974 and 1975.
Taken from Cosmic Dreams at Play - A guide to German Progressive and Electronic Rock by Dag Erik Asbjørnsen, Borderline Productions, ISBN 1-899855-01-7
---