Week of October 1, 2006
Minotaurus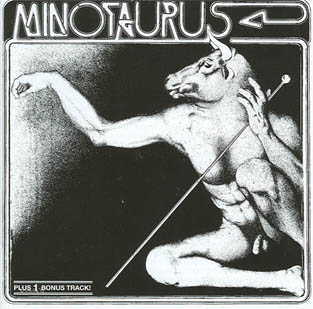 Fly Away
LP private release (1977)
CD: Garden of Delights CD 073, 2002
Personnel:
Bernd Maciej - bass
Michael Helsberg - guitar
Peter Scheu - vocals, percussion
Ludger "Lucky" Hofstetter - guitar
Dietmar Barzen - organ, mellotron, clavinet, synthesizer
Ulli Poetschulat - drums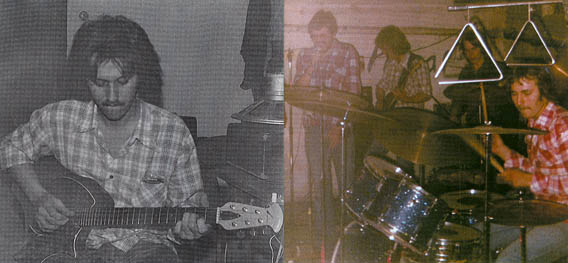 Minotaurus, from the city of Oberhausen, in the Western Ruhr area, played symphonic rock in the vein of the early Genesis and Yes. It all started in the mid-1970s, when six young men decided to make music together. They had two guitarists, Michael Helsberg (b. 07/02/1957 in Oberhausen) and Ludger "Lucky" Hofstetter, the latter trained in classical guitar and cello. Ulli Poetschulat played the drums, Dietmar Barzen the keyboards. Also there were Bernd Maciej on bass and Peter Scheu on vocals. Most of them were self-trained musicians, and after some rehearsing they managed to play their first gigs. They made a name for themselves providing live accompaniment to Stanley Kubrick's film "7117" at the Oberhausen Short Film Festival (Filmothek). So they were gradually gaining local fame and writing more and more of their own songs. Hans-Werner "Roller" Suedbrack, Uwe "Jacke" Ziemert and the late Wolfgang "Jagger" Jäger were now in charge of the PA system. In 1977, they decided to release an album. The recording took place on January 13-15, 1978, in the Langendreer Sound studio, owned by Günter Henne from Epidaurus, and under the direction of that band's drummer Manfred Struck. Dietmar Barzen was allowed to make use of the Epidaurus mellotron, for Minotaurus did not themselves own such a wickedly expensive and touchy machine. Soon the LP "Fly Away" was released, a private pressing of 1,000 copies, manufactured at Pallas in Diepholz, originally without a cover. They distributed plenty of copies among friends before they found time to attend to the cover artwork. When the design was finally finished, they thought that ordering 600 copies would be enough. The cover showed a Minotaur, the legendary bull-headed being from ancient Minoan Crete. Those 600 copies sold, they realized that there were still 200 LPs left without covers. So Ulli Poetschulat had another 200 sleeves printed, this time with a completely new artwork showing a plane designed by Heike Zywitzki. In the same year, 1978, Micky Helsberg was the first to quit the band. Minotaurus eventually disbanded in 1979, after about 100 live gigs, even though they had just gotten themselves someone to deal with their business matters, Jürgen Reinke.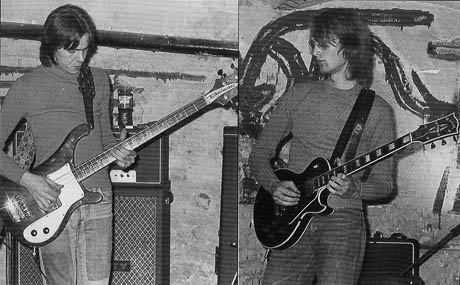 When people realized how good the long-since sold out album was, the demand for it increased steadily. Today, three-digit sums are paid for the original vinyl copy. There was a reissue on CD in 1992 (Lost Pipedreams LP 11 CD). Jürgen Reinke had sold the rights to that label without actually owning them, and without consulting the others. Since he didn't have the master tapes, a vinyl copy was used and decrackled, but with insufficient technology. For the making of the Garden Of Delights (official) CD, the label managed to trace Ulli Poetschulat, who put his master tapes at their disposal. This CD also features an unreleased bonus track, "Sunflowers", recorded in the rehearsal room. The booklet front shows the Minotaur (as did the Lost Pipedreams reissue) since that was the earlier and more spectacular of the two sleeve versions. By the way, the drummer is in possession of tapes for a second Minotaurus LP, which was never released. It remains to be seen whether it will come out on CD one day.

No Minotaurus member appeared on any other progressive record of the time. They were simply too late. There is no connection to the folk group of the same name, who released the long player, "Rain Over Thessalia" in 1970. In 1997, Micky Helsberg and his band M.I.D. (Manner in Dosen; English for "Men in Cans") put out a self-produced CD called "Kopfschmerzen" ("Headache"). He still lives in Oberhausen, as does Hans-Werner Suedbrack. Ulli Poetschulat has moved to Eastern Germany and works as a concert organizer. The others couldn't be traced. Finally, two comments on Minotaurus quoted from the standard reference works. Steven and Alan Freeman's "The Crack In The Cosmic Egg" (Leicester 1996) is rather unenthusiastic: "An obscure late 70s self-produced progressive, and notably amateurish, though with that quaintly new-wave type edge typical of many German bands from the era. They aspired for greater things, but when compared to similar bands of the era: Madison Dyke, Second Movement, Neuschwanstein, et. al., they paled as nothing remarkable, but pleasant." The entry in Dag Erik Asbjørnsen's "Cosmic Dreams At Play" (Glasgow 1996) is far more flattering: "A little-known group which released one great album. 'Fly away' bore all the trademarks of late seventies heavy symphonic progressive rock movement - string and moog synthesizers, melodic guitar lines and long, intricate melodies. Comparable groups would include Faithful Breath, Epidaurus, Pancake, Madison Dyke, Michael Bundt, as well as Eloy. The album is a lost classic, get it if you can". Which only goes to show that you shouldn't blindly trust other people's opinions.
Many thanks to Ulli Poetschulat, Micky Helsberg and Hans-Werner Suedbrack for their friendly help.
Taken from the CD reissue of "Fly Away" Garden of Delights CD 073, 2002
---