Week of June 15, 2003
Pirana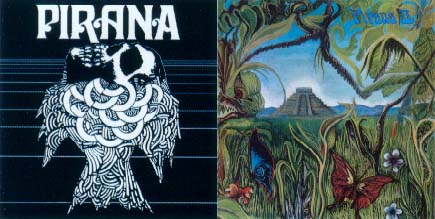 Personnel:
Tony Hamilton - Guitar
Graeme Thompson - Bass
Stan White - Keyboards
Jim Yonge - Drums
Keith Greig - Keyboards
Andy James
Richard McEwan - Guitar, Vocals
Andrew McCue - Keyboards, Flute
Paul Spetter - Drums
Phil Hitchcock - Bass

Albums:
Pirana (Harvest SHVL-602) 1971
Pirana II (Harvest SHVL-609) 1972

45s:
Here It Comes Again/Find Yourself A New Girl (Harvest HAR 9457) 1971
I Hope You Don't Mind/Funny Games (Harvest HAR 9734) 1971

A Santana-inflluenced Latin rock outfit who played in Sydney between 1970-75. They had a minor hit with "Here It Comes Again", which spent four weeks in the charts and their second album just made it into the Top 50.

They are probably best remembered as festival stalwarts, but their vinyl is worth investigating. Their debut album was a varied progressive item. The poppier side of their repertoire is represented by "The Time Is Now" and "Find Yourself A New Girl", their more adventurous side is evident on "Elation" and "Stand Back" and most of the remaining material is song-based and falls midway between the two styles. Their two 45s, "Here It Comes Again" and "I Hope You Don't Mind" were tight progressive tunes. The former showcases Tony Hamilton's vocals and acid-soaked lead guitar break. The latter has some great choppy organ (a-la Doors) and incisive sax riff.

Their second eponymous album was stronger and housed in a superbly colourful cover. Fairly typical Aussie prog rock, it featured a good instrumental, "Then Came The Light", "Here It Comes Again", the atmospheric nine-minute "Thinking Of You" with its searing fuzz guitar and flowing Hammond organ and the heavier "Move To The Country" among its finer moments - but it isn't all good.

Pirana soldiered on until 1974 but had no further vinyl output after 1972.

"Soul Sacrifice", one of their stage favourites, can also be heard on "Sunbury '72" and you'll also find "Then Came The Light" on "Hair Of The Dog".

(Ian McFarlane/Vernon Joynson)
Taken from "Dreams, Fantasies and Nightmares" by Vernon Joynson, an extensive guide to Canadian / Australian / New Zealand and Latin American psych and garage music 1963 - 1976.
---