Week of September 7, 1997
XTRA! XTRA! XTRA!
WE'VE GOT THE DIRT!!!
READ ALL ABOUT IT!!!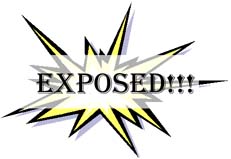 JOHN'S WORST NIGHTMARE!!!
THE BARE FACTS!!!
IT FINALLY HAPPENED!!! I'VE FOUND SOLID PROOF AND THE ULTIMATE LINK BETWEEN URIAH HEEP AND THE EUROVISION SONG CONTEST!!! THE ENTIRE ROCK WORLD SHOULD BE IN SHAMBLES FROM THIS STARTLING REVELATION!!!
OK, so we all knew that our own dear John Lawton, the brilliant vocalist and the voice of so many excellent, legendary rock bands of the 70s, 80s and 90s, was moonlighting in the Les Humphries Singers - the cheerful singalong semi-pop, semi-gospel singing group, and left his mark on quite a few songs throughout their illustrious career, but to see him amongst such "greats" as Catherine Ferry, Brotherhood of Man, Braulio, Sandra Reemer, Peter Sue and Marc, Red Hurley, Mary Cristy and Waterloo & Robinson is a sheer delight for me as a pop lover and, at the same time, a sheer embarrassment for me as a rock afficionado. :-) Well, can't always have it both ways, can we?
For those of us who can remember the contest plodding on merrily on the telly, when there was nothing else to watch, and generally nothing else to do, you'd just give in, slouch deeper and deeper in your chair, put a paper bag or a newspaper on your head so as to avoid being recognised, and... watch in complete bewilderment as the Eurovision "stars" battle it out for the ultimate prize... flavours of the day, Anne Marie David, Gigliola Cinquetti, Johnny Logan, et. al., alongside pop hitmakers The New Seekers, Cliff Richard, ABBA, etc., representing their respective countries, belting out cheerfully banal, if slightly simplistic and naive, and - one might add - quite inane songs, songs which weren't meant to last for more than a season, but were certainly meant to bring you happiness - FESS UP!!! YOU WERE THERE, people, not just John. No need to deny it. It's a well known fact that Eurovision has been a household insitution in many countries throughout most of Europe and some of Asia; everyone spits and curses at the very first mention of it, but most of us watch it anyway! :-)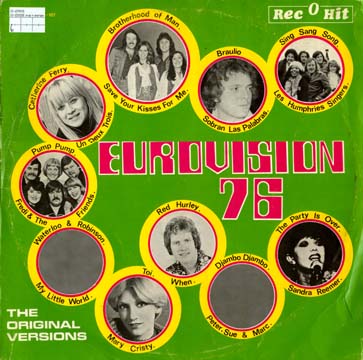 And quite frankly... those tunes weren't so bad, were they? Well, inane, OK, but bad? NEVER!!! :-) So if you're not a bigot, if your level of open-mindedness goes even slightly beyond the enjoyment of Jan Garbarek, Tori Amos and Rusted Root (played on 3 separate stereos, simultaneously), join me in the sing-a-long to one of the most inane, yet endearing Eurovision songs the humanity has ever heard (this side of Boom-a-Bang-Bang and Aba-Ni-Bi): SING SANG SONG.
For THIS is the song John performed with the Les Humphries Singers at the Eurovision Contest in 1976!
Alex Gitlin, 1997
P.S. Thanks to Boris for sending in the record, and to Vladimir - for continued support in my Lawton-watch, and also to Roy Landgren - for the continued research of all things Lawton!!!
---