Week of March 14, 1999
Badger
1973 One Live Badger LP Atlantic ATL 40 473
1973 One Live Badger LP Atco SD 7022

1993 One Live Badger CD Repertoire REP4373-WY, Germany
1993 One Live Badger CD AMCY-593, Japan

2003 One Live Badger CD Wounded Bird WOU 7022, USA
2003 One Live Badger CD Voiceprint VP275CD, UK
2007 One Live Badger CD (CD Sized Album Replica) Air Mail AIRAC-1425, Japan

1974 White Lady LP Epic EPC 80009
1974 White Lady LP Epic KE 32831

2002 White Lady CD Epic EICP 7077, Japan
Badger were formed in 1973 when original Yes keyboardist Tony Kaye left Flash, the band he'd set up with another original Yes member Peter Banks, and set about forming his own "Progressive Supergroup". Bassist David Foster, who'd worked with Yes vocalist Jon Anderson in The Warriors, was the first recruit followed by drummer Roy Dyke who'd previously been a member of the Remo Four, Family and one third of Ashton Gardner & Dyke who'd scored a worldwide smash hit with "Resurrection Shuffle" in 1971. The fourth member was Brian Parrish who'd been involved with Medicine Head (where he met Dyke), Three Man Army and had also released an LP with Paul Gurvitz.
Atlantic Records quickly signed the band and released their debut album "One Live Badger" in 1973 (K 40473). Like Yes the album contained long instrumental songs which amply showed off the skills of the individual members but failed to catch the public's imagination. Kaye and Dyke, seeking new inspiration, recruited ex-Stealers Wheel guitarist Paul Pilnick to replace Foster and also brought in Dyke's old bassist Kim Gardner. The search for a frontman/songwriter ended with the addition of Liverpool born Jackie Lomax, previously with The Undertakers and solo artist with The Beatles' Apple label. Lomax transformed Badger from a Progressive Rock band into a more soulful outfit and wrote all of the songs for the band's second LP "White Lady" (Epic EPC 80009). The album was recorded in New Orleans at producer Allen Toussaint's studio but before it was released the band split following a gig at Croydon's Fairfield Hall supporting E.L.O. with whom they'd had an argument over the use of the P.A.!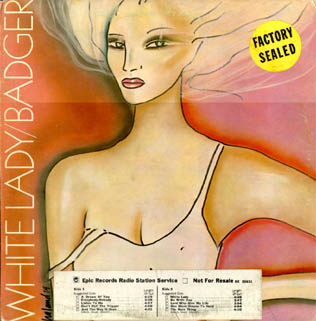 Lomax returned to a solo career cutting albums for Capitol and Warner Brothers. He also undertook a lot of session work including working on Rod Stewart's "Foolish Behaviour" LP. Roy Dyke worked with the likes of Cafe Society, Pat Travers and Chris Barber whilst Tony Kaye joined Detective, had a spell with Badfinger and then rejoined Yes in 1983. Paul Pilnick later teamed up with Deaf School and Joe Egan whilst Kim Gardner continued as a session bassist working with the likes of Dwight Twilley.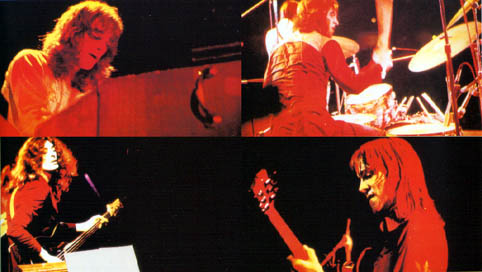 Mark Brennan
Taken from the CD reissue of "One Live Badger", Repertoire REP4373-WY, 1993
---